Family Activities for Fourth of July
Posted by Megan Garrell on Thursday, June 25, 2020 at 10:46 AM
By Megan Garrell / June 25, 2020
Comment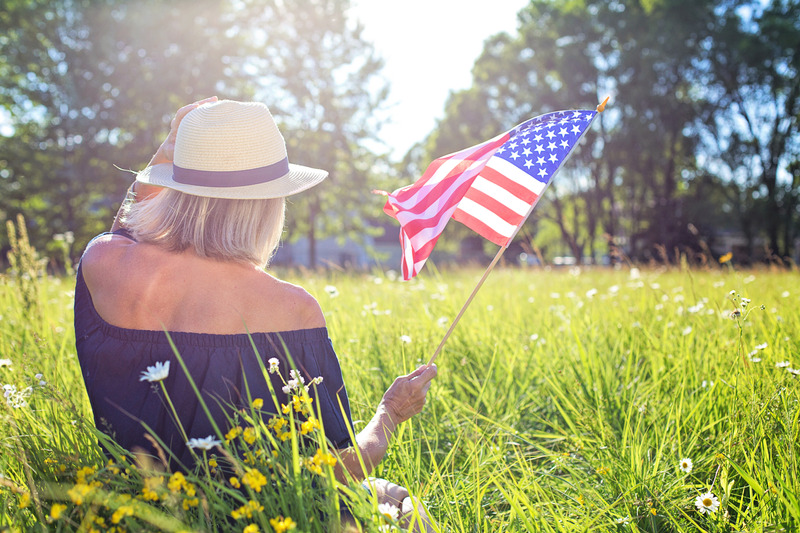 Birthdays are special days and should be celebrated as such! The Fourth of July or Independence Day is our country's birthday. That was the day when the birth of the United States of America happened in a small Philadelphia courthouse during the second Continental Congress. In the 18th century, our country founders declared independence from Great Britain and started the American revolution. Family traditions are a big part of birthday parties and holiday celebrations. The 4th of July provides a great opportunity for an extra family activity to pass down year to year, generation to generation.
With summer approaching, don't let the Fourth of July be just another out of school and off of workday until the fireworks. Here is a list of four kid-friendly craft activities that go with a day in nature, to celebrate the country's birthday in a fun and unique way.
Fourth of July Picnic Treat
Nothing ends a picnic better than a treat. Treat bags are a quick craft to do with your children, All you need is a white computer paper, glue or double-sided tape, scissors, color pens or markers, candies, and treats. Choose a free pattern of a paper bag to make and make sure it's a black and white one, so your children can color their treat bags. Download and print the pattern on your computer paper, Help your kids, cut around the pattern on the outline. A straight edge and a craft knife will make the cutting easier. Let your children's fantasy work, make them decorate the pattern with pens or markers. Glue the parts together and let bags dry. Gently bring the sides, front, and back up into a bag sale. Open your bags and place candies and treats inside.
Patriotic Balloon Paddle Game
It is a craft and game from Mess or Less. You will need two paper plates, red, white and blue paint, paintbrushes, masking tape, large popsicle stick, colored balloons. Begin with painting red, white and blue stripes on both sides of two paper plates. They recommend using different brushes for each color, so you don't have to constantly keep cleaning the brushes. Allow the plates to dry. When they have dried, place a heavy book on them to prevent them from curling up. With masking tape attach the large popsicle sticks o the back of both paper plates. Blow up the balloons and play it like tennis.
Fourth of July Cookies
Star cookies are easy and quick to make. Your children can help too, rolling the mixture or getting the shapes into the tray. For approximately 30 cookies you will need 250g of cold butter, cut into cubes, 250g of self-raising flour, a teaspoon of sugar, 1/2 teaspoon cinnamon, 1/2 teaspoon ginger, 1 beaten egg, red-hot and blue food sparkles. Firstly, you will need to preheat your love to 180 degrees C or 356 degrees F. Prepare two large baking sheets with on some greaseproof paper. Place the flour in a bowl, adds cubs of cold butter. Rub the butter and the flour between your fingers until combined. Stir in the sugar and spices toughly, then add a beaten egg and stir again. With your hands squish your combined mixture into a ball. Prepare your work surface. Sprinkle it with a little flour. Roll out the mixture to a thickness of approximately 4 or 5 mm. Use a star shape cutter to cut out your stars. Lay your stars on the baking tray. Sprinkle them with red, white, and blue sprinkles. Put them in your preheated oven for 10 or 15 minutes. Place them on a wire rack to cool.
4th of July Shirts for a Bike Ride
Like many moms, some of us are crafting fanatics. For your kids or a family gathering, there are a wide variety of simple DIY ideas online.
All you need is plain white T-shirts, iron transfer paper, free printable stencils, craft knife, iron. I will make it easy and fast for you. Choose your favorite template, download it, and then carefully print it on the iron transfer paper. Read carefully the transfer paper's instruction. Iron your design to your T-shirt and voila, you are ready for a bike ride.
Make sure you and your loved ones have fun and enjoy your 4th of July by spending time making memories together!